This one has been on my to do list for awhile and finally got around to do it today. I decided I was going to try to follow
this recipe
pretty close and use the kettle more as an outdoor over verses doing a low and slow pulled pork Pernil style.
Here it is after an overnight marinade, into the CI pot, with all that marinade and some water. On the kettle at 350 for an hour before I transfered it to the foil pan with a tented foil lid.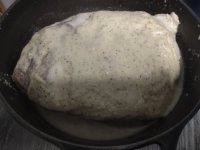 Here is at the two hour check.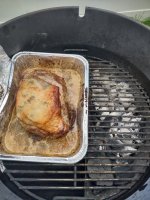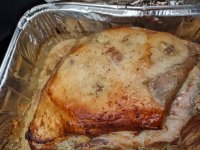 And here at hour 4 when it removed a good bit of the liquid.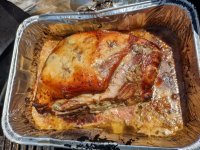 Here is at hour 6, when I took it out of the foil pan and placed it on the grate to cook before I flipped it fat side right over the fire.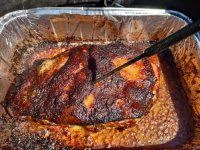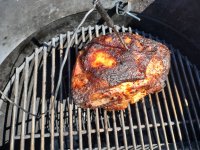 Right before I pulled it off the kettle.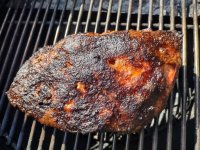 Served with Dominican Rice and Beans following
this recipe
.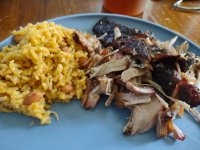 That pork was over the top amazing. The rice was just ok. I know that this is a traditional holiday dish and I get why it is. It smelled so amazing while cooking and the smell took me to memories of preparing Thanksgiving day Turkey multiple times. The only problem is that it is all gone. We ate it all. I got a over 9 lb and a under 7 lb pork shoulder form Wild Fork and I thought I would go with the smaller one for this meal in case it wasn't good or people didn't like it. We have never finished a whole pork shoulder at one dinner, until tonight. The reason this is a problem is I really wanted to make a Cuban sandwich with the leftovers, but that is not happening. I will be making this again and soon, and I making a bigger shoulder so we have leftovers for Cuban sandwiches and hopefully so tacos.
This is totally worth a try if you have never had or cooked it.
Last edited: