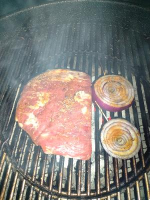 Cumin-Crusted Grilled Skirt Steak Tacos
THE MEAT
2 1/2 lb. trimmed skirt steak, cut into 4 pieces (DH used flank)
1 large red onion, peeled and cut into 1/2" thick rounds (keep rings together
1/4 cup olive oil
1/4 cup cumin seeds
1 TB. paprika
Kosher salt and freshly cracked black pepper to taste
THE GLAZE
1 cup fresh orange juice
1/2 cup distilled white vinegar
1 TB. tomato puree
1 TB. pureed chipotle chiles, or 1 TB. chile powder
THE AVOCADOS
2 ripe but firm avocados
juice of 6 limes (about 3/4 cup)
1/4 cup roughly chopped fresh cilantro
Kosher salt and freshy cracked black pepper to taste
THE WRAPS
12 corn tortillas, 6 to 8" across
1. Combine the glaze ingredient in a medium saucepan and on the stove top, bring to a boil over high heat. Reduce the heat to medium and simmer vigorously until the mixture has reduced by two-thirds and become slightly syrupy (30-40 min.). Remove the glaze from the heat and allow to cool to room temp.
2. While the glaze reduces, halve, pit and peel the avocados; cut each half into thin slices. Put the avocado slices, lime juice and cilantro in a small bowl and sprinkle with salt and pepper. Toss gently until the avocado is evenly coated, then transfer to a serving dish, cover and set aside until serving time.
3. Build a fire in your grill.
4. Rub the steaks and onion slices with olive oil and sprinkle evenly with the cumin, paprika and salt and pepper.
5. When the fire is ready, put the steaks on the grill directly over the coals and cook until they are done to your liking (4-5 min. per side for medium rare). Brush the steaks generously with the glaze during the last 45 seconds of cooking on each side. Transfer the steaks to a cutting board, cover loosely with foil and allow to rest for 5 minutes. Thinly slice the steak on the bias across the grain, arrange the slices on a serving platter; and drizzle with the remaining glaze.
6. While the steaks are resting, put the tortillas around the edges of the grill and cook briefly, flipping every 10 seconds or so, until they are soft and pliable (about 1 minute). Wrap the stack of warm tortillas in a large napkin or foil and take them to the table along with the lime-marinated avocados and steak, so your guests can "roll their own". Serves 4
Source: "Grill It" - Chris Schlesinger & John Willoughby - 2008
Last edited: