I don't stumble across these all that often. It's a great cut of meat. Looks to be a shoulder that met a band saw.
Same tasty piggy
as a pork butt or pork steak, This pic is after the first hour and a spritz of apple juice + apple cider vinegar. Rub is just me throwing the basics on it, SPOG and paprika.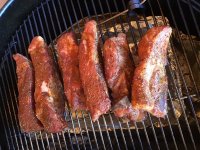 I'm doing these in my newest kettle with a slow and sear. It's been solid at 245 - 255 without any tweaking,
More later.