Here's a cook I never got to a couple of weeks ago. It's Weber's recipe for Corned Beef and Cabbage. It's one of my favorites.
I made this loaf of Irish Soda Bread to go with the meal.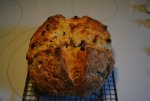 I'd purchased a Snake River Farms corned beef from Costco for St. Patrick's Day, but after the delay in doing this cook I decided to freeze it and cook this smaller brisket from Shenson's. About 2.5 lbs. Placed it on some sliced onions, carrots, celery and a few cloves of crushed garlic.
Then I added a couple cans of diced tomatoes and some water.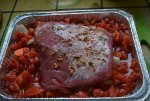 Got it on the Performer, covered tightly with foil and let it go for two hours.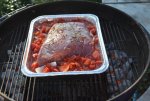 Uncovered and added some quartered new potatoes and a few wedges of cabbage. Covered and let it roll for another hour.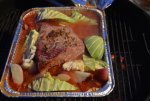 Pulled when potatoes and cabbage were cooked.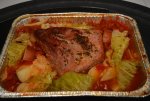 Sliced it up.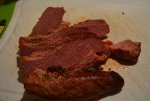 Plated it up.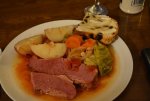 This made for a really nice dinner. Felt good to get the grill going again. Hope you're all doing as well as expected during this difficult time. Thanks for looking.
Last edited: