Just got a new project started (well, it actually started about 8 days ago with the curing process.....) I separated the coppa muscle from a couple of Costco butts, and cured them with salt, cure #2 and some spices (clove, bay, pepper) for 8 days. I removed them from the cure today, rinsed, coated with paprika then stuffed into beef bungs (the bungs were an experience......slippery, "fragrant", and a bit of a pain to deal with.) They are now hanging in my curing chamber (small wine fridge using a controller to control temp/humidity (I've got a seedling heat mat for heat, a dehumidifier, and a container with salt and distilled water.) We'll see how this goes over the next 8-12 weeks that it will take to get to 35-40% weight loss.
Ready for cure: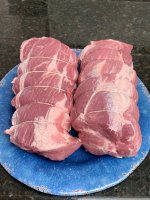 Cured, stuffed, and hung: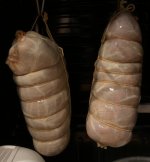 Next time I do this (or when I do lonzino, bresaola, etc.), I think I will try to use collagen sheets instead of bungs. They look easier to handle, less mess and "fragrance", etc.
I'll post updates.....
R
Last edited: