Chicken wings marinated in Sweet Baby Ray's Sweet Chill Sauce and some mini Italian Sausages.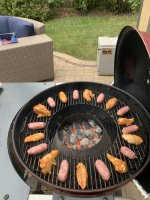 Vortex was a little over half full and running at about 500°. After 20 minutes I added some mini sweet peppers.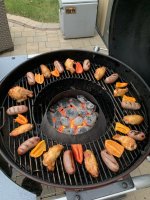 Another 20 minutes it was ready and plated.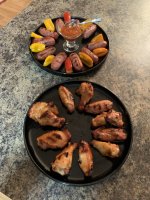 A special shout out to Lynn Dollar who I reached out to a few weeks ago about his Keto diet and recipes and website suggestions!
I'm trying to work it into my barbecue Lynn!
Last edited: