I just completed my heatermeter 4.3 build... however I'm short 1 bs170. The first one I tried to us I bent the middle leg the wrong way and then broke it when I tried to correct it.
So I went to mouser ordered another one ...but the legs are slightly different. It also say wa12 vs wa 11 above the bs170.
Is this functionally the same?
Orginal (minus leg I broke) - new ones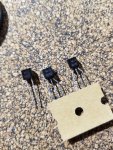 Last edited: