22 years ago today my wonderful and tolerant wife said "I do" and has kept me on the straight and narrow ever since. To celebrate, we smoked and grilled some prime ribeyes.
We bought these at a small, local, family grocery. I've never been there before but I'll be going back because they had a lot of great stuff you don't find in the chain stores. I did a 24-hour dry brine to start.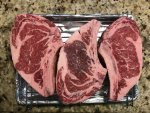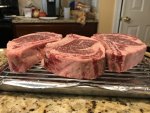 I decided to try to smoke these on my 18" WSM followed up by a good sear on the kettle. Things didn't go quite as planned. I used a partial ring of KBB and a few hickory chunks. I should have used more wood, or at the very least I need to buy some fresh. I didn't get the smoke flavor I was looking for.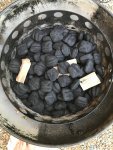 After the dry brine I seasoned them with a Santa Maria steak seasoning and onto the kettle they went.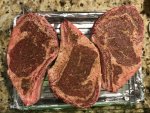 This was after reaching about 100 degrees internal temp. I wasn't too sure at this point how this was going to turn out. They were not too appealing to the eye.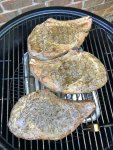 I had a lot of charcoal left in the bowl of the WSM, so I set the midsection with the steaks aside and shoveled the remaining coals into the vortex (inverted from normal so I could fit two steaks at once) so I could get a searing hot fire.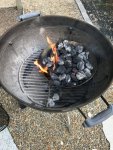 Let the grease fire begin. It kind of went downhill from here as far as fire management goes. I wasn't able to get the full sear I was looking for, but I was able to salvage it in the end.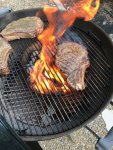 They came out pretty nicely in the end. I was going to grill some shrimp while I let the steaks rest, but there was still too much of a grease fire and related smoke to do that. They went into a sauce pan with some olive oil and butter. Gotta be able to adapt, right?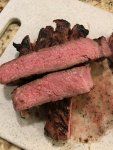 This was the uncut version. There were three of these stacked up and the let out a lot of juices. Still plenty moist, though.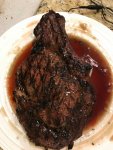 And the final plate. Grilled prime ribeye, sautéed shrimp, Cacio E Pepe, and some french bread. A salad is there but out of view. Delicious. Thanks for looking.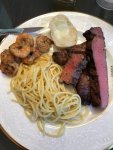 Last edited: