Hello!
New member to the board and starting my first Weber restoration. Ive seen a lot of great builds here and its inspired me to do one of my own.
I found this one on Facebook free for pickup today: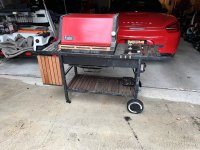 I however am having trouble identifying specifically which model this is.
I found the label underneath but I see nothing visible on it: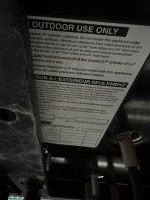 It did come with 13 flavorizers (surface rusted but I think salvageable) but the grates are done/rusted through.
I love the wood slat look and so far the frame seems to be in good shape.
Besides restoring it the only thing I want to do is add the side burner (which Im hoping I can find from another donor grill).
Any help in ID'ing the specific model (and year range?) would be appreciated.
Thanks!
Few more pics (maybe to help ID it):