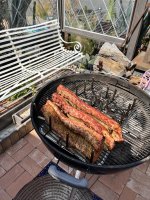 All seasoned up and on the 26R at around 400° dome temp for an hour.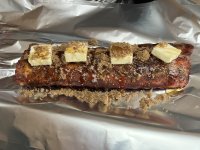 Then added butter chunks, brown sugar and honey. Wrapped up in foil and on the gasser indirect at 400° for and hour.
Set the sauce on the gasser as well.
I'v done this same cook using the gasser after it has an hour of Cherry wood smoke on the 26R many times. Works like a charm.
Hope you enjoy this cook and thanks for looking...