Administrator
Staff member
2020 Weber Product Catalog
This year's catalog is 16 pages in full color and measuring 11" wide x 8.5" tall. This represents a doubling in size versus just 8 pages in 2019. Still, this is 2 pages less than the 2018 catalog and much smaller than the 2016 (48 page!) and 2017 (60 page!) catalogs.
Here are the highlights:
Two pages are dedicated to the new SmokeFire EX4 and EX6 pellet grills, SmokeFire hardwood pellets, and highlights of SmokeFire features.
One page is dedicated to the new Weber Connect Smart Grill Hub.
One page is dedicated to the Weber Summit Charcoal Series. This is the first time these grills have appeared in any Weber Product Catalog since they were introduced in Spring 2016.
On the charcoal grill page, the only new grill is the Master-Touch kettle in Deep Ocean Blue.
Nothing new on the WSM front. 14", 18", and 22" smokers are on display with other charcoal kettle grills
As has been the case for several years now, the good ol' Ranch Kettle is not shown in the catalog despite still being available.
Weber Briquettes are featured in this year's catalog. Despite blow-out sales and limited distribution, it looks like these briquettes will continue to be around for a while.
On the gas grill front, the only new grills shown are the Genesis II E-335 in Deep Ocean Blue and the Spirit S-315.
Finally, we enter another new model year without an update to Summit gas grills. The 2020 grills are very similar to those first introduced in 2007 (with the exception of a sear station burner added in 2008) and identical to those from 2011 onward, as best I can tell.
New accessories for 2020 include: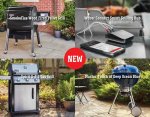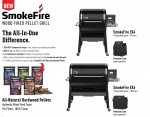 Last edited: