Administrator
Staff member
1979 Weber Gas Kettle Recipe Booklet
1979 Weber Gas Kettle Instructions
Here's one that very few people have ever seen...the assembly and operating instructions for the Weber Gas Kettle and an accompanying recipe booklet.
The recipe booklet follows the same format that Weber used over the years for many of its grills, including
One-Touch
,
Go-Anywhere
, and
earlier kettle
recipe booklets. The first few pages describe grill features, available accessories, basic grill care and operating instructions, and an explanation of the concepts of direct and indirect grilling. The bulk of the booklet consists of recipes that were common across all of Weber's recipe booklets. Unlike other Weber recipe booklets that were printed in full color, this one is printed in black, white, and shades of red.
The seven page instructions include assembly, grill operation, a parts schematic, maintenance procedures, and an additional insert sheet describing how to calibrate the LP tank scale and install the tank scale indicator sticker.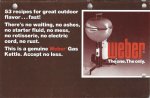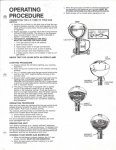 Last edited: