Administrator
Staff member
The Lark Backyard Bonanza:
A 1975 Lark Cigarette ad from an unidentified magazine offers a "Webster Kettle Barbecue Grill" for only $53.95 (an $89.95 value) including a free man's apron, a lady's apron, and a chef's hat (!). Just mail in your check or money order along with two Lark carton end flaps. Be patient, delivery takes 4-6 weeks. Ah, the good ol' days...
Everything about this "deluxe, kettle-style grill" says "Weber" except for the chrome metal handle. Is that what makes this a "Webster"? Seriously, I feel like I've seen kettles with metal handles like this before. Were these a one-off made by Weber or a non-Weber knock-off?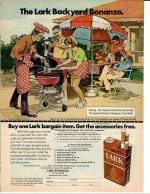 Last edited: