Administrator
Staff member
1960 Weber Recipe Booklet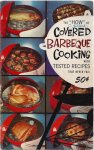 This 36 page booklet is titled, 'The "How" of Covered Barbeque Cooking with Tested Recipes That Never Fail'. It includes the following:
The advantages of covered cooking
How to select barbecue equipment
How to care for the Weber covered barbecue kettle
Direct vs. indirect methods and smoke flavoring
How to create an aluminum foil drip pan
Importance of purchasing good quality charcoal
How to start your fire
Lots of recipes
It originally sold for 50 cents. It does not show a copyright date, but according to a listing on Amazon.com, it's from 1960.
You can see this booklet advertised on page 3 of the
1963 Weber Product Catalog
: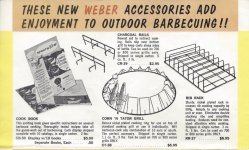 This booklet once belongs to a C. Zillich and contains handwritten notes on the inside front cover on how use a covered kettle and cooking times.
It's worth looking at just for the fun barbecue artwork throughout the booklet!
Enjoy,
Chris
Last edited: